Artiest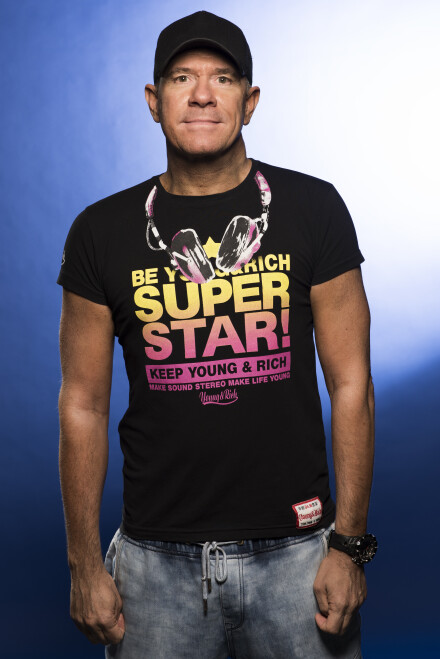 Artisten overzicht
DJ Jean
Genre: House
DJ Jean, a name who left his indelible traces in the contemporary national and
international club scene. Well known for his turntable "skills", his notoriously
rebellious dissolute lifestyle and especially as a dedicated DJ! He was one of the first
and very few DJ's who gained his well earned status of a real Dutch celebrity! Jean is
distinctive and overloaded with multiple awards, such as the SENA Award, an award
for most played Club DJ on Dutch radio in the past ten years, and he has been voted
as Best Club DJ for several times! On top of that, he received the very prestigious
SLAM FM Ouvre Award in 2009! He is nominated for numerous big award shows
such as TMF Awards and Silvester Dance in the UK. Last but not least, he is the
most booked DJ ever in The Netherlands!
 
His name counts many International classics / anthems such as "The Launch" and
"Every Single Day", but also more recent highly successful co-productions as
"Original Dutch" (#1 on dancetunes.nl) and "The Bomb"!
Jean is the only Dutch DJ who produced over more than 30 compilation CD's (iT 4 to
9, Madhouse 1 to 12), for a total sales both national as international of 500,000 CD's!
Due to this international success, Jean has been spinning records at almost every
place in the world! Over 20 countries at numerous festivals and at the most
prominent and well-known clubs! On the party Island Ibiza he played in all mayor
clubs such as Amnesia, Pacha and Privilege. His home base remains in the
Netherlands, where he's a very welcome guest at parties varying from 50 to 50,000
people.
 
This high degree of flexibility in terms of locations, price and music wise
interpretation, makes sure his popularity is still that huge in his homeland, that means
both with his own as with the latest generation of clubbers!
The youngest and last generations even call DJ Jean the founder of the modern
house and DJ scene, or Godfather of House! This almost iconic status is obviously
not created "just like that", we're talking about a DJ who does not want to be labeled
for one particular musical style, but who loves to explore the rich variety of dance
movements and always aims for the best during every gig! Whether it's a grand cafe,
a student party, club, festival, erotic or company event, his audience is the most
important at any time; With Jean playing, no dance floor is safe anymore, you better
get ready to rock!!
 
In 2013 Jean hooked up with MC MARON HILL (Without a doubt Holland's finest on
the mic) to gain even more power and impact for his performances! This resulted in a
powerful tag team so strong that it created a vibe and sentiment in the Netherlands
and across the border, unheard off and often described as 'stunning' and
'unbeatable'!! This resulted in more then 300 very successful gigs in 2014,
performing at worldwide infamous festivals such as Tomorrowland, Dutch Valley and
many more. They also did a very successful Poland tour in the summer of 2014
performing at more than ten of the biggest and best known clubs in this great party
country!
 
These days Jean's music style varies from the immense popular EDM sound to the
more deep, soulful, groovy and uplifting clubhouse! Together with his partner in crime
MC Maron, they are known for their strong combination (back to back) performances
of House and R&B! The dominant music style in Jean's performance completely
depends on the crowd he is spinning for and party he is spinning at, at that particular
moment, therefore making him the most "adaptive" DJ among the so called "big
names"!


Expect a lot of spectacular and interesting developments from DJ Jean for 2015! For
example Jean hooked up with DJ/ producer Peter Gelderblom and his young
compagnon mega talent Randy Colle as his new production team for at least ten
brandnew tracks in 2015, already resulting in incredible collabs such as DJ Jean ft.
Inaya Day - Think About it (released 26th of December 2014 on Beatport). Inaya Day
was the vocalist on numerous big tunes for the last 15 years, such as Mousse T -
Horny and many others. No need to mention that Jean is very proud to announce this
collab with such an iconic artist and one of his favourite vocalists worldwide. In
February 2015 another great track of Jean will be released on probably one of the
most popular quality recordlabels worldwide of this moment Zulu Records.
Besides the collaboration with Inaya Day, Jean is also working on a new track with no
one less then Dutch superstart Jay Jawson. This track which is especially created for
the latest and youngest generation of Dutch urban and eclectic clubbers and will be
released in the first quarter of 2015.
 
Keep an eye on all forthcoming new releases on SENZA (house/deephouse) and
DIZPLAY (edm) recordings as these labels will only deliver highest quality tunes from
the best new talents as well as already international renomated producers!
Finally, let's not forget that DJ Jean hosts an extremely successful radioshow in the
Netherlands on Radio Veronica, an iconic radiostation in the Netherlands for more
than 30 years now. Tune in every Saturdaynight from 02.00 - 03.00 for the latest
quality tunes!
Willekeurige foto's
GIF 2015 - Spring Edition door Michel van Rossum